Rockhots Records is proud to present the latest offering from Finnish symphonic power metal band Everfrost and their new EP of anime cover songs entitled "Frostbites", which is now out as of November 11th. The EP features guests Mikael Salo (Thy Row, Dyecrest), Rob Lundgren (Mentalist, Reveal), and Shiro Neko. Produced by Benji Klint-Connelly, the four original songs on the EP, "Gotta Catch 'Em All" were written by John Siegler and John Loeffler, "Flyers" by BRADIO, "Hacking to the Gate" by Chiyomaru Shikura and "A Cruel Angel's Thesis" by Hidetoshi Satō.
Today, for the EP's release day, Everfrost is sharing their last video in support of the cover record for the final track "A Cruel Angel's Thesis" ft. Mikael Salo. The song is from the anime series Neon Genesis Evangelion and was originally composed and performed by Hidetoshi Satō. with lyrics by Neko Oikawa, and arrangement by Toshiyuki O'mori.
The band adds:
"When we decided to do a covers EP of anime opening songs, this song was one of those choices that were staring us down because of how legendary Neon Genesis Evangelion is, along with its opening 'A Cruel Angel's Thesis'. The show deals with some very deep themes such as morality, individuality, and responsibility, all delivered with an aura of depression largely due to the creator's mental state at the time. The original performance of the song captures the series's life-affirming message, by enunciating the joyful and glorious side of the story.
Great care was taken to make timeless elements such as the salsa-like rhythmic feel and 90s keyboard sounds present themselves strongly along with the heavier and more powerful elements we introduced into the arrangement. Most of us are also familiar with the show, therefore its emotional weight definitely came through in our playing while recapturing the power of the original version. This will also be our former vocalist Mikael Salo's last EVERFROST song. If this song wasn't already challenging enough, the original track's vocal is also on the hard end of the scale. Mikael did a fantastic job on this, marking a very fitting song to go out on.
In the end, this was the most challenging song of the EP! Curiously enough, Evangelion is fittingly a challenging series to decipher, but easy for many people to relate to. We hope this translates to our cover of the song, we for sure feel it does!"
"Frostbites" is available at the following link – https://bfan.link/frostbites​
Previous Videos:
Flyers – https://youtu.be/1NCl8_45kHc​
Gotta Catch 'Em All – https://youtu.be/gulzQhT2pto​
Hacking The Gate – https://youtu.be/tG5jqVZzOzo​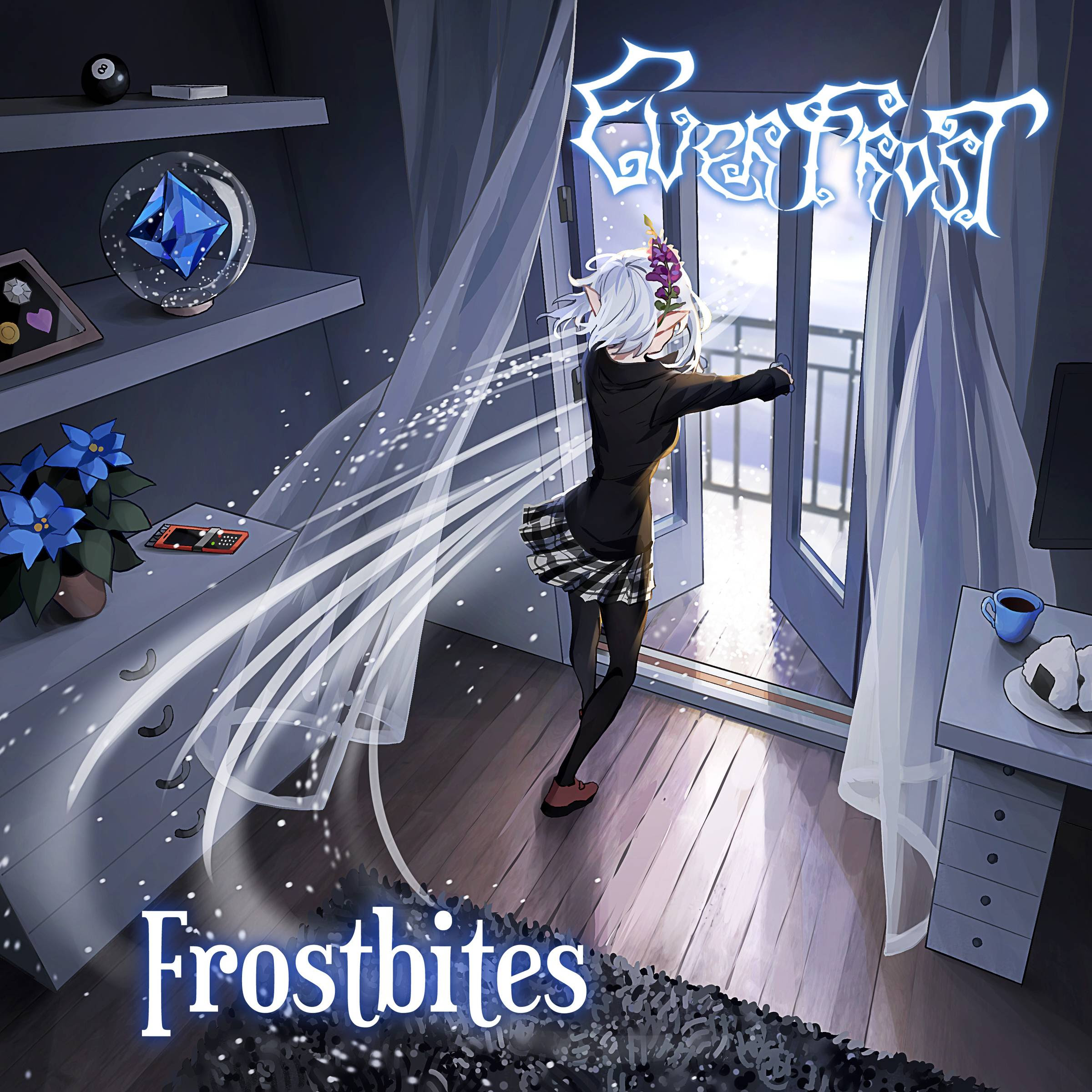 Track Listing:
1. Gotta Catch 'Em All (feat. Mikael Salo) – 3:17
2. Flyers (feat. Rob Lundgren) – 3:30
3. Hacking to the Gate (feat. Shiro Neko) – 4:36
4. A Cruel Angel's Thesis (feat. Mikael Salo) – 4:22
EP Length: 15:46
Album Credits:
​Samuli Heiskanen – Lead guitars
Joose Ylianttila – Rhythm guitars
Benji Klint-Connelly – Keyboards
Roi Partanen – Bass
Jope 'James' Salminen – Drums
​
Cover artwork by Sunako
Promo photos by Tapio Ranta-aho
Photo edits by Benji Klint-Connelly
Outfits by Heli Mäensivu
​
Songs arranged by Benji Klint-Connelly and EVERFROST
Mixed by Benji Klint-Connelly
Mastered by David Gnozzi
About:
EVERFROST is a Finnish symphonic power metal band known for incorporating Japanese anime and manga influences into their music, visuals, and storytelling.
​
Metal fans and anime enthusiasts alike have described EVERFROST numerous times as the band they were always looking for as the music is created from a passionate desire to energize you, make you happy, and take you away from the struggles of everyday life.
​
The familiar influences of classic and modern Finnish heavy metal (Nightwish, Beast in Black, Sonata Arctica, Wintersun, etc) are present in the EVERFROST sound, however, the band's trademark wintery style combined with elements from non-metal genres such as Eurobeat, dance-pop and anime music bring a unique freshness to the mix. The result is an addictive cocktail that has proven to find its way into a wide variety of playlists, DJ sets, parties, and live events.
​
Another big reason people fall in love with EVERFROST is because of how immersive the band's universe is. Each album features ongoing stories of a group of characters living in a cursed city, sealed off from the world. The concept is inspired by the 'secret cities' experiments established during the Cold War.
The band's latest full-length album 'Winterider' was in particular quite a unique release in the metal world, being a concept album featuring this world and characters in a fully coherent manga comic, following the story and working in tandem with the songs. It received critical acclaim and high scores from multiple well-known metal media outlets such as Kaaoszine, Powerplay Magazine, Bravewords,and Tuonela Magazine.
"9/10 The next great power metal band." – BRAVEWORDS​
​
The album also made it to Disk UNION Japan's top 10 charts for two weeks, charting at number 1 for the first week.
The band also won Tuonela Magazine's 'best new discovery' award for 2019.
​
While the music may sound energetic and cheery, the lyrical themes are usually dark, melancholic, and vulnerable, dealing often with escapism through fantasy and entertainment, death and loss, social isolation, and hardship. These feelings and ideas are manifested in the stories and characters, however, the core inspiration stems from how cruel and cold the real world can be at times. This combination of happy music with sad lyrics empowers listeners in whatever stage they are going through or have been through in their lives.
​
The band features keyboardist and songwriter Benji Klint-Connelly, guitarists Samuli Heiskanen and Joose Ylianttila, bassist Roi Partanen and drummer Jope 'James' Salminen. Past members have included vocalists Hew Wagner and Mikael Salo (Thy Row, Dyecrest). The band has also featured and worked with many other esteemed musicians such as Rob Lundgren (Mentalist, Reveal), Yannis Papadopoulos (Beast in Black), Asim Searah (Damnation Plan, ex-Wintersun), Sara Strömmer (Shereign, ex-Fear of Domination) and Bini Silvennoinen (Blame Me!).
For more info:
https://www.rockshots.eu
https://www.facebook.com/everfrostfinland
https://www.instagram.com/everfrostfinland
https://twitter.com/everfrosttt