L-R – Brody Bauer – Lead Guitar, Vocals, Myles Packer – Bass, Vocals, Alex Rye – Lead Vocals, Brendan Meilleur – Drums, Vocals, Matthew Lindholm – Rhythm Guitar, Vocals
Photo Credit: Darla Woodley, Red Socks Photography
Edmonton's Fall Of Earth will be hitting the road for their first coast-to-coast Canada Tour of 2023 and the fourth of the year since touring across Eastern Canada earlier this year. Venturing across the country in support of their sophomore album "From the Ashes" released this past April, this forthcoming tour also welcomes rhythm guitarist Matthew Lindholm to enhance the band's live sound and new bassist Myles Packer to replace Aaron Winklmeier who is on the band's latest album.
The "Road To Purgatory Tour" will kick off on September 8th in Peace River, AB, and head towards British Columbia, and then go East pushing forward to Halifax, NS to trek across 9 Canadian Provinces for two months of 40-plus performances that will head back West and wrap up in Saskatoon, SK on November 18th (dates listed below).
Fall of Earth has embraced labeling itself as "Hybrid Metal", as its sound is a contagious mélange of genres, that is continuously being refined. The primary elements come from progressive, death, and thrash, and over time, they find a lot of their tracks becoming longer, more epic, and more dynamic becoming more melodic and groove-oriented, as well as utilizing a healthy balance between heavy sections and clean sections. The latest iteration of the Canadian quartet can be experienced with their recently released sophomore album "From the Ashes".
Since writing this second album, Fall OF Earth says that they have a better understanding of what they want their music to become and where to steer the direction of their future works. All across the board, their lyrics come from a very personal place and hold a serious connotation.
Creative, unpredictable, and melodic, with a wide variety of influences, Fall Of Earth offers a little bit of something for everyone.
"From The Ashes" was released on April 21, 2023, and is available at https://distrokid.com/hyperfollow/fallofearth/from-the-ashes
Lyric Video – Block Out The Sun – https://youtu.be/zdjISmh9kYA
Music Video – From the Ashes – https://youtu.be/Yl31YXXkom4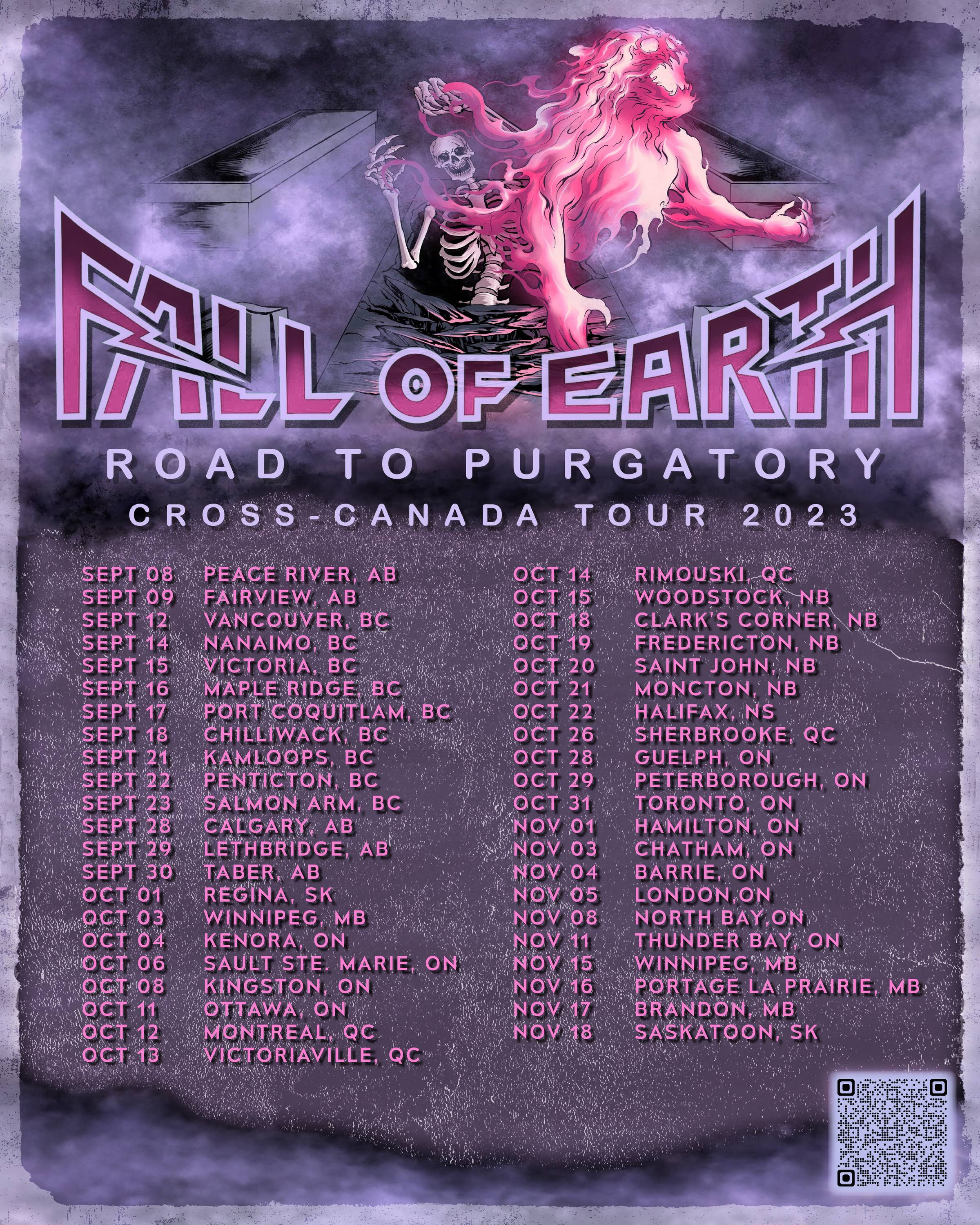 Road To Purgatory Cross Canada Tour:
Sept 8 – Peace River, AB – Sharks
Sept 9 – Fairview, AB – New Grand Hotel
Sept 12 – Vancouver, BC – Lana Lous
Sept 14 – Nanaimo, BC – The Queens
Sept 15 – Victoria, BC – Phoenix Bar & Grill (Headlining 3n1gmatic Island Takeover Festival
Sept 16 – Maple Ridge, BC – The Wolf Bar
Sept 17 – Port Coquitlam, BC – The Bennett
Sept 18 – Chilliwack, BC – Whiskey Richards Bar & Lounge
Sept 21 – Kamloops, BC – The Blue Grotto
Sept 22 – Penticton, BC – Clancy's Pub
Sept 23 – Salmon Arm, BC – Solid Urban Studio
Sept 28 – Calgary, AB – Blox Art Centre
Sept 29 – Lethbridge, AB – The Slice
Sept 30 – Taber, AB – The Pin
Oct 1 – Regina, SK – The Exchange
Oct 3 – Winnipeg, MB – Bulldog Event Centre
Oct 4 – Kenora – Bob's Burger Bar
Oct 6 – Sault Ste. Marie, ON – Soo Blaster
Oct 8 – Kingston, ON – Overtime Sports Bar
Oct 11 – Ottawa, ON – House Of Targ
Oct 12 – Montreal, QC – Piranha Bar (lower level)
Oct 13 – Victoriaville, QC – Chanvra En Ville
Oct 14 – Rimouski, QC – Underground Rimouski
Oct 15 – Woodstock, NB – Montieth Manor
Oct 18 – Clark's Corner, NB – The Hollywood Star Room
Oct 19 – Fredericton, NB – Broken Record Bar
Oct 20 – Saint John, NB – Panic Room
Oct 21 – Moncton, NB – Igloo Beverage Room
Oct 22 – Halifax, NS – Gus' Pub
Oct 26 – Sherbrooke, QC – Le Murdoch
Oct 28 – Guelph, ON – ONYX Night Club
Oct 29 – Peterborough, ON – Erben
Oct 31 – Toronto, ON – Tail Of The Junction
Nov 1 – Hamilton, ON – Vertagogo
Nov 3 – Chatham, ON – USB (Ultimate Sports Bar)
Nov 4 – Barrie, ON – The Queens
Nov 5 – London, ON – Grogette's Living Room
Nov 8 – North Bay, ON – The Fraser
Nov 11 – Thunder Bay, ON – Black Pirates Pub
Nov 15 – Winnipeg, MB – Bulldog Event Centre
Nov 16 – Portage La Prairie, MB – TBD
Nov 17 – Brandon, MB – TBD
Nov 18 – Saskatoon, SK – Black Cat Tavern
Track Listing:
1. Medusa (8:25)
2. The Dead And Soon To Be (5:54)
3. Block Out The Sun (4:24)
4. Path To Self Destruction (6:40)
5. Crossroads (9:35)
6. From The Ashes (5:14)
7. Shores Of War (5:49)
8. Purgatory (6:00)
9. Into The Woods (6:33)
Album Length: 58:39
Album Lineup:
Alex Rye – Lead Vocals
Brodie Bauer – Guitar, Vocals
Brendan Meilleur – Drums, Vocals
Aaron Winklmeier – Bass, Vocals

Fall of Earth is:
Live Lineup
Alex Rye – Lead Vocals
Brendan Meilleur – Drums, Vocals
Brody Bauer – Lead Guitar, Vocals
Matthew Lindholm – Rhythm Guitar, Vocals
Myles Packer – Bass, Vocals
For more info: Fallofearthband.com | Facebook.com/FallOfEarthBand | Twitter.com/FallofEarthBand | Instagram.com/fallofearthband
About:
Fall of Earth, based in Edmonton, Alberta, is a Hybrid Metal band. They are led by the growls, screams, and soaring clean vocals of Inuit frontman Alex Rye, who captivates every audience member with his energy and showmanship. The flying fingers of axe slinger Brody Bauer produce a dizzying array of sounds that regularly elicit screams of rapture from the audience. The progressive and primal low end is provided by bass wielder Myles Packer and Brendan Meilleur brings the elite combination of high-energy drum fills and expressive grooves, all while contributing vocal harmonies. Fall of Earth has recently added Rhythm guitar player, Matt Lindholm, who adds skill and dynamic to the band. Collectively, the members of Fall Of Earth possess the highest levels of musicianship while never forgetting to put on the exceptional live show the band has become known for delivering. It's more than a rock show, it's an experience!
Fall Of Earth is a play on words that reflects their core belief that the world is experiencing a multitude of issues including climate change, war, and mass extinctions that are leading us all to a darker place as a society. The band hopes to use the power of music to help the world recover.
2023 has been a busy year so far with both a Western and Eastern Canada tour, the release of their sophomore album titled "From The Ashes" featuring 9 tracks that definitely hook the listeners, the release of their single "Block Out The Sun" to radio, supported by a lyric video, Lyric Video release for "Different Breed" and Full Video Release for "From The Ashes". With a few festivals during the summer and back on the road for a 3-month Cross-Canada Tour in September, Fall of Earth is building its momentum and fans everywhere.
"Fresh Tracks: Fall of Earth offers a smorgasboard of metal on From the Ashes… What if a band took numerous metal genres and combined them to form a monstrous kaiju ? This is the modus operandi of Edmonton's Fall of Earth. Known more succinctly as "hybrid metal," Fall of Earth's sound encompasses death, thrash, progressive, metalcore; you name it, they have it cranked to 11″ – Edmonton Journal
"From the Ashes is an impressive album that showcases Fall of Earth's growth as musicians and their ability to create powerful, impactful music. The band's unique sound and technical skill are on full display, and Rye's vocals are a standout feature throughout the album. From the Ashes is a must-listen for any Metal fan, and Fall of Earth is a band to keep an eye on in the future. Look for them on tour in Canada and many other places." – Metal Express Radio

"A young and rising Canadian Progressive Death Metal and Metalcore act will attack your senses mercilessly with their incendiary and very personal sophomore album." – The Headbanging Moose

"A young and rising band from Edmonton kicked some ass armed with their Progressive Death Metal and Metalcore where rock will never die in Toronto last night…. if they're playing in your city anytime soon don't miss the chance to watch one of the most promising names from the Canadian Prairies." – Headbanging Moose (Live Review – June 18, 2023 – Toronto – The Rockpile)
"Whether you see them on stage on the screen, Fall of Earth is truly a force of nature and if you're looking for one of Canada's next big metal bands right before they blow up, look no further!" – Dropout Ent. (Live Review – Toronto – June 2023)

"It is an extreme variety of the form we get here, and one that at the core level is defined by seamless transitions between extreme metal, thrash metal and power metal. But in between we also get quirkier parts more aligned with progressive metal, and more interestingly from a progressive point of view we also get a liberal array of acoustic and semi-acoustic passages and interludes with a more delicate and atmospheric laden style, form and orientation. The vocals come with the same amount of versatility, with harsh and melodic lead vocals being the main forms used. A production to seek out by those with an interest in a powerful and vibrant variety of extreme progressive metal expanded with a liberal array of delicate and atmospheric laden interludes." – Progressor
"Progressive metal, with a bit of a tech death thing going on. clean and harsh vox. cool stuff" – WORT 89.9 FM (Madison, WI)

"The nine songs present some real diversity in the genre by embracing several different approaches" – Metal Temple